Providing Protection from High Voltage Power
Hydro Tasmania Meadowbank PowerStation has invested in one of the BLH Guarding Systems to protect employees from the 110 kilovolts that are passed overhead in their high voltage yard.
BLH Safety Solutions utilised their innovative non conductive guarding solution along with FRP frame work to protect employees when passing under the high voltage lines. Full side protection was also installed for protection from the main transformer and bus bars.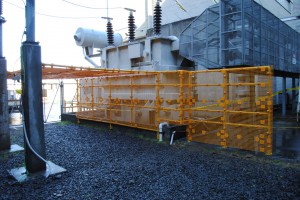 Side wall mesh protection on transformer and bus bars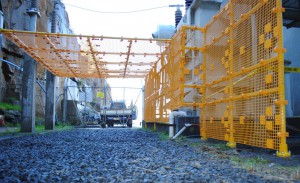 Overhead guard protecting employees from high voltage lines
Hydro Tasmania pride themselves on safety and their vision is "No harm to anybody at anytime".