Solving Conductivity Issues for the Rail Industry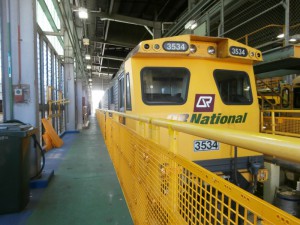 After two years of searching for a suitable solution to eliminate the risk of electric shock to personnel working at their locomotive maintenance sheds, David Armstrong, Maintenance Manager at the Callemondah Depot Gladstone, sought the services of BLH Safety Solutions to develop a non conductive alternative to traditional conductive materials.
The issues were:
The residual current the 25,000 volt Locomotive power created on the existing aluminium handrail system.
The risk to personnel from dropped objects while maintenance is undertaken on their Locomotives.
The new non-conductive Fibre Reinforced Plastic hand railing with the addition of the innovative "BLH Stop Drop Barricading System" which is made from advanced polymers has minimised these risks.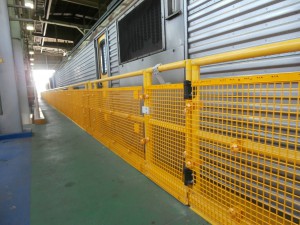 Fabrication of the handrails and self closing Gates were conducted on site in Gladstone, which ensured critical measurements and requirements were achieved.
The wholistic approach of BLH Safety Solutions offering non-conductive hand railing, in conjunction with dropped object prevention has now allowed Aurizon to offer a high level of protection to their workforce in their electric services maintenance workshop.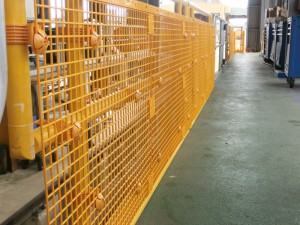 Dave Armstrong of Aurizon was delighted with the result and is currently reviewing their future requirements to minimise other similar safety issues across their sites.