Stevens Supply International at ADIPEC 2014, presenting BLH Stop Drop™ Barricading
Stevens Supply International presenting our unique and trendsetting HSE product, BLH Stop Drop™ Barricading, for the United Arab Emirates Oil and Gas professionals.
Get a hands-on presentation of BLH Stop Drop™ Barricading by Nicholas Hubbard at
ADIPEC in Abu Dhabi, commencing November 10th.
You are invited see our unique barricading system in Hall 7 at Stand 7512.
To arrange a meeting please contact Nicholas Hubbard directly by;
mail: Nick@stevenssupply.com or phone: +971 50 100 3137.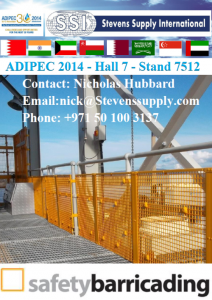 «GLOBAL SOLUTIONS & LOCAL PRESENCE»